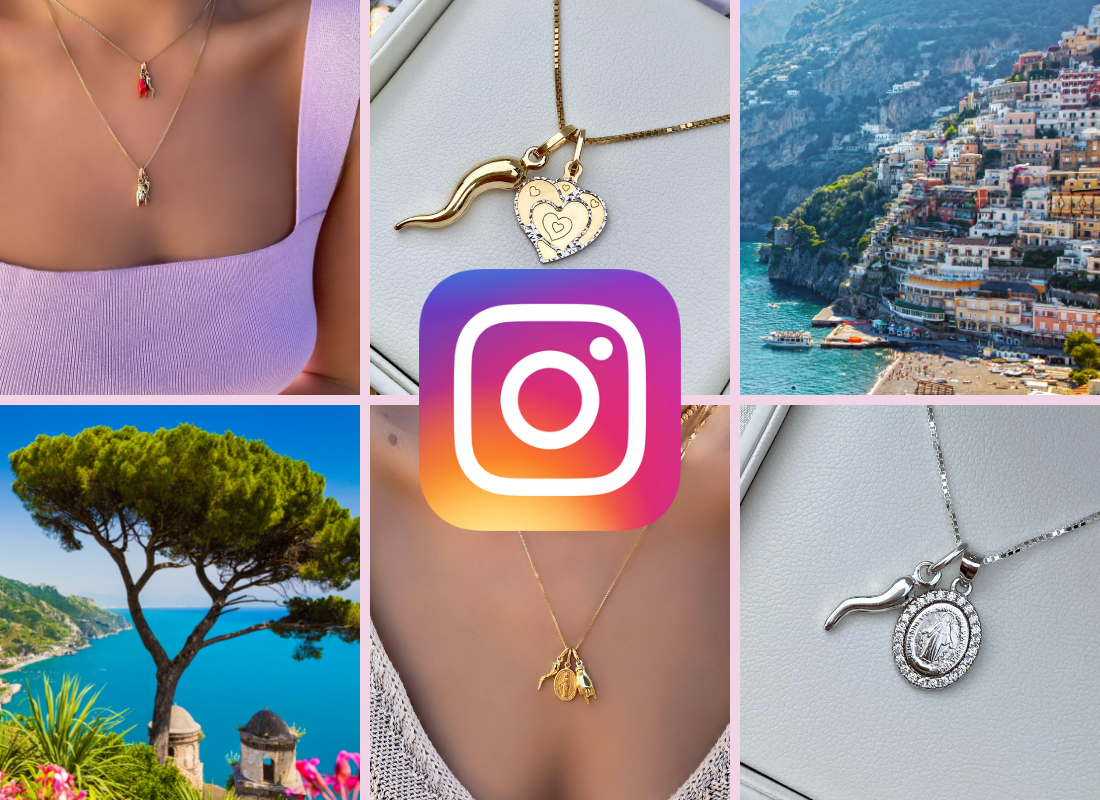 14 Things I've learned building an Instagram Following from zero to 10K
I started an Italian jewelry business in 2020! Our community and Instagram following have grown from zero to nearly 11,000 followers in 6 months. And, just like every jewelry, fashion, or accessories business, you soon realize you're at the mercy of The Gram. But this shouldn't discourage you. You can build a following and you don't need to post 5 pictures a day or do Instagram ads!
Here's what I've found works and all the little things I've learned along the way. I hope it helps someone who is struggling to build their following.
We post one once a day in the morning and that's it. In the beginning, you will read and watch videos that say you need to post 5 times a day. We never have and our Instagram is still growing. It's also not realistic for a small business and it's OK! Post high-quality content and your community will look forward to it.
Be different. It seems obvious but if you look at your niche, you'll notice everyone is doing the same thing. Differentiate yourself and don't be afraid to be a little quirky.
Quotes work! People love quotes and they save them which is Instagram gold. Make them specific for your product, niche or brand. Use existing quotes and make them your own with a funny and comical twist. Quotes, where people have to drop a ❤️ or have to affirm, are good too and create engagement!
ROI for Stories is terrible. Hiring an influencer to post a story stack (3–4 images or a video on their story) doesn't get you much traction. People tend to tap away and don't visit or 'swipe up'. ROI hasn't been great so don't 'upgrade' and get a story with an influencer if they offer it.
Sending free products doesn't work. I prefer to send my own picture of our product and pay to promote on their feed rather than send free products. This way I have full control over the image. Just because they call themselves 'content creators' doesn't mean they will create good content for your product.
Celebrities won't necessarily put you on the map. Just because they have a huge following doesn't mean they will send you followers or sales. We've had celebrities with a 600K following and got nada, literally nothing! Other socialites/influencers with a small following, sales galore!
The feed rules. Posts in the feed sell products! Focus on the feed and watch your sales go up.
So many people with 1–2K followers want to be influencers, have media kits, and want free products! That's all I'm going to say about that one.
Make sure your products are in a specific niche as it's easier to find your target market on the gram. When you know your customer, you can find where they hang out.
Hire other people's Instagram accounts to promote your products. I pay to promote and do giveaways on other people's accounts. It has been the single most biggest game-changer to get followers.
Giveaways work but scammers will pop up and target your customers. Again, the biggest gamechanger to get followers but the scammers will discover your competition and create fake accounts and start contacting your customers that they've won, ask for shipping money for their prize, and voila they've been scammed. It's best not to use any competition hashtags as they will find you. Create a competition on your own website and share it.
It's never enough so just keep going. First, the goal is to get to10K and then you get the amazing 'upload a web link' option for your stories. Then you realize the 'upload a web link' is not that great and now your goal is to get to 15K followers. You're always chasing the next thousand followers and it never feels like it's enough. In other words, just post, upload, and carry on.
Mix up your hashtags and don't always say follow 'my brand'. Instagram doesn't like this so make sure your captions are unique every time and you use a wide range of hashtags in the comments of course.
Your feed doesn't have to look pretty and all matchy matchy all the time and that's OK! Sure enough, those posts will be pushed down and nobody will remember. So just post that pic even if it doesn't quite 'fit in'.